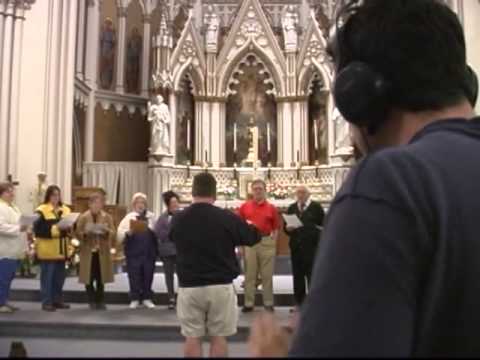 "Few bands can claim to be born because of a lawsuit settlement with a local cable operator, but that's indeed the case for The Stairs." - Well Rounded Radio
This picture is just to say, you can get the "hold... →
"Yet even without a cast of thousands, the Stairs... →
Splendid on the "Chime Away" EP
Salon.com on the song "Welcome To Confusion" →
"From its simple finger-picked opening, the song builds layer by layer, adding strings, electric guitars, vocal harmonies and some joyously rickety percussion as it hurtles toward its rousing conclusion." 
5 Questions with Ryan Walsh on The Digital Return... →
"Today's a pretty special day for fans one of Boston's sorely missed pop treasures, The Stairs."
Out Today On Bandcamp! →
They're live as of this morning!  Click the link right above this text and have at it!
PopMatters 'Miraculous Happens' Review →
"Long, wild, artless, and warmly vehement; in the final analysis, ratings of good, bad, or indifferent seem arbitrary and ultimately irrelevant — mean spirited, even. I mean, really, how do you argue with such ardent sentiments as: "we'll make him sing, we'll make him belly laugh / We'll stay and wallow in the golden aftermath" ("Quiet Girl")? Or alternately not relax in the inclusive...
Captain's Dead: "The Stairs turn to Hallelujah The... →
"I'm going to come straight out and admit that i am now a stairs fan. if i had their entire catalogue, I just know i would celebrate it, everyday."
- The Phoenix →
"On Sleep Lab [is] quite simply and by a large margin the best local indie-pop album of the year.""
The Final Stairs Interview, Audio Recording, 2005... →
"Their new CD is their best yet: an epic undertaking that blows away many productions with much bigger budgets. I recently met with Schnairsohn, Sicuranza, and Walsh at the home of Ed Morneau, once a high school teacher to several band members and always a supporter of the band, to discuss what brought about the band's abrupt end and how the band will be signing off during...
"Summer of 2003, the Stairs became the first opening band ever to perform an..."
– Matt Parish